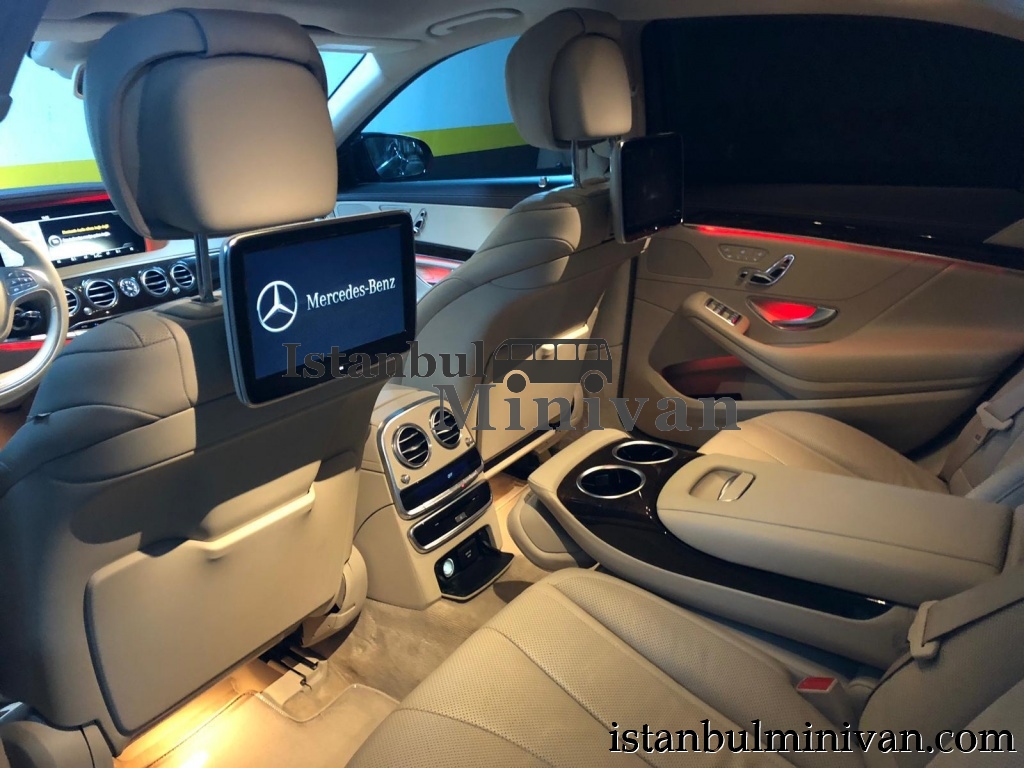 Rent a Mercedes S 500 in istanbul. We Have Mercedes S Class , Mercedes S 500 and Mercedes S 500 Maybach to rent in istanbul with driver. We have Mercedes S Class Vip Cars to rent with driver in istanbul for sightseeing, airport transfers, meetings or business trips in istanbul. It is possible to find many vehicle brands and models in the company, which provides a reliable service for those who want to rent a car on an hourly, daily, weekly or monthly basis.
Mercedes s 500 Maybach model vehicle is the most luxurious vehicle of Mercedes. Our most special customers prefer this vehicle. It is one of the reasons for use with its appearance, comfort and safety. Contact us on our contact page to benefit from our Istanbul Mercedes s 500 Maybach rental service.
Mercedes s 500 Maybach is one of the best examples of our Istanbul Mercedes rental service. You can rent it with or without a driver. You can rent it for yourself, your family or your guests. With Istanbul luxury car rental, one of our services, you can use our latest model vehicles as much as you want.
You can also rent Mercedes S 350 and Mercedes S 500, which are our Mercedes rental services. It is in your hands to find the reputation you want and benefit from the best car rental service. Become one of the distinguished customers of istanbul minivan.com. Call and rent!
Mercedes 500 Maybach Rental in Istanbul
Our company, which proves itself in luxury car rental and takes pride in offering the best of everything to its customers, enables you to make pleasant journeys with the vehicles of your dreams. Our vehicle fleet, which has a capacity to respond to everyone's preference, is constantly being renewed and comes up with better alternatives.
Why to use Istanbul Minivan.com Services
As Istanbul Minivan Vip car Rentals, we provide worldwide car rental services. Vipcar Rentals, whose priority is customer satisfaction, has become a brand in chauffeured Mercedes rental service with its expert and friendly working team. Vipcar Rentals team has a perfectionist understanding to provide quality, fast and reliable service. You can experience the most comfortable travel opportunity in the VIP car rental service in Istanbul with Vipcar Rentals.
What are the advantages of Istanbul Minivan.com car rental?
Vipcar Rental will add a different taste to your special moments with the quality and comfortable service it provides. You will enjoy the journey with advanced driving techniques and safe driving trained drivers. We provide the most affordable and reliable service in all provinces, especially in Istanbul, with our driver S 500 rental and other Mercedes branded VIP vehicles. We offer special offers to our customers who want to rent a long term car.
Feel that you are privileged with our airport transfer services with our VIP vehicles in Istanbul. Experience the difference of Vipcar Rentals with our VIP vehicles and expert drivers for your guests, weddings, engagements and other special days.
Are you renting a Mercedes S Class with driver?
Yes, we rent with a driver at the desired time. If you want to rent it without driver, please contact us.
How much are the Mercedes S350 rental prices?
It depends on the service to be received and the day of the rental. Please contact our customer representative.
For your requests, please call +905442201022
E-Mail : info@istanbulminivan.com
All Our Rental Services in Istanbul
Car rental with driver
Airport transfer
Vip minibus rental
Mercedes Vito rental
Mercedes Sprinter rental
Limousine rental
Range Rover Rental
Long term car rental
Armored car rental
Luxury car rental
Mercedes Rental
Mercedes S 350 Rental
Mercedes S 500 Rental
Porsche Rental
Mercedes s 500 Maybach Rental
Affordable Daily Car Rental
Limousine rental service
Car rental service with driver
Private jet charter service
Yacht rental service
Helicopter rental service