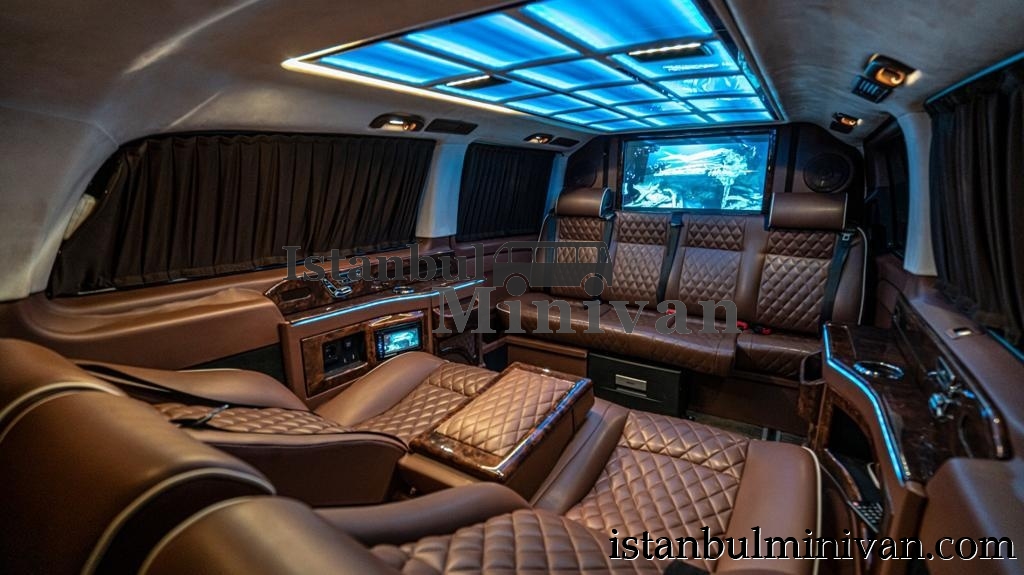 Rent Ultra Luxury Vip Mercedes Vito Minivan with driver in istanbul
As istanbulminivan.com, we provide you our new model Ultra Vip Mercedes Vito Viano Minivans with professional driver for sightseeing, shopping, business meetings, tours and for other activities in istanbul.
We know that traveling in Istanbul is difficult and you want to travel comfortably with your family. For this, we carry our valuable Istanbulites and our guests coming to Istanbul comfortably with Mercedes Vito, which is one of the best VIP minibus brands. We are at your service with our Istanbul Mercedes Vito rental service. To make a rental, simply contact us at the numbers on our contact page. We are proud to say that we are one of the most experienced teams in Istanbul Vito rental. Contact us quickly for Vito rental prices.
MERCEDES VITO RENTAL in ISTANBUL
Renting a luxury car is one of the travel options preferred by those who want to make comfortable journeys. Those who travel with the Mercedes Vito rental service enjoy the pleasure of traveling with a luxury vehicle with Mercedes quality. Mercedes Vito carries comfort to the vehicle with its 163 horsepower engine, reliable vehicle mechanics coming from its fully galvanized structure, enormous Vito quality compatible with even the most difficult road conditions and efficient vehicle structure in urban and extra-urban journeys.
MERCEDES VITO COMFORT
Mercedes Vito creates an enormous comfort environment for the driver and passengers. Mercedes Vito, which can be rented with or without a driver, is offered to the owners of the Vito with its carefully prepared seats, vehicle structure integrated with artificial intelligence, vehicle windshield heater and much more. With the Mercedes Vito rental service offered by our company, you can get in the driver's seat, or sit back and enjoy the journey wherever you want. Our company, which aims to create the highest level of comfort, also serves drinks for our guests. We offer the best travel service to our elite passengers who want to take a luxurious journey.
RELIABLE JOURNEY WITH VITO
Long kilometers turn into a comfortable time creation with Mercedes Vito quality. Vito, which goes through dozens of stages in every stage of its production, stands out as the most rented vip minibus in urban and intercity travels. Our company offers the pleasure of VIP travel in the Mercedes Vito rental service it provides and brings comfort and trust together at every moment of the journey. Our company adds comfort to your travel with the Vito quality, which is the most preferred vehicle by the elite passengers who prefer minibus rental in our country.
VITO EXCLUSIVE
Always the best for the driver and passengers in the vehicle, the Mercedes Vito creates a wonderful in-car environment for a high-end journey. Creating options that will facilitate drivers' work in the cockpit, Mercedes Vito also creates highly exclusive equipment and stylish designs for passengers. Mercedes Vito, one of the most durable vehicles of the Mercedes world, can be used at the highest level for years with its anti-corrosion structure. Feel privileged on your journeys with Vito, rented by our company.
VITO RENTAL WITH DRIVER
Mercedes Vito, which is the most preferred vip vehicle in our country by those who love luxury travel, also stands out as the most rented vip vehicle. With the option of renting a chauffeur-driven Mercedes Vito, which can be rented privately by our company, set out on the journey quality you want. In addition, with our company, which also has the option of renting without a driver, you can start your peaceful journey with our customized rental options. Our company, which cares about the requests of our passengers and works completely on satisfaction, ensures that our elite passengers have an enjoyable journey.
USING VITO ON LONG JOURNEYS
Safety and comfort during travels stand out as the two most important parameters in car rental services. Mercedes Vito offers confidence in the journey with its extremely robust structure. Vito vehicles rented by our company are permanently offered to our customers who rent in the cleanest and most reliable way. With our reliable Vito vehicles whose maintenance processes are made periodically, you can choose our rental service for your long journeys. Enjoy a high-level journey with Mercedes Vito and our company's reliable team.
SERVICES WE OFFER;
Our types of services are offered in order to perfectly meet private transportation possibilities. In this way, we offer more than one Istanbul VIP Vito rental service to our individual and corporate customers.
VIP Vito rental for special organizations and events, Limousine rental, vehicle fleet rental, VIP car rental for special welcoming such as group, team and delegation, rental of vehicles such as minibuses, rental of more comprehensive vehicles such as buses, car rental with driver and vip for airport We offer transportation services to our customers with many types of car rental such as car rental.
WHY ISTANBULMINIVAN.COM ?
As the best quality and popular Istanbul VIP Vito rental company in Istanbul, we have a different service network from ordinary VIP Vito rental companies. Thanks to being the oldest and well-established VIP Vito rental company in Istanbul in terms of the date of establishment, we offer our valued customers perfect vehicle transfer services.
As a professional vip Vito rental company, we offer customer-oriented services and thus we collect appreciation messages from our valued customers. As a professional VIP Vito rental company, we offer rich reference catalogs to our valued customers and thus we offer you the opportunity to trust us.
Since our establishment, we offer VIP Vito transfer service over an additional free price tariff that appeals to your economic budget and, unlike many vehicle transfer companies in Istanbul, we offer VIP Vito rental service throughout Istanbul.
Since our establishment, we have been offering VIP Vito rental service without sacrificing quality service and customer satisfaction. As a professional VIP Vito rental company, we offer vehicle transfer services over rich vehicle models, unlike many VIP Vito rental companies in Istanbul, and thus, we offer you the opportunity to choose the VIP Vito vehicle model you want.
As the most popular VIP Vito rental company in Istanbul, we offer our valued customers the best price guarantee and, unlike many car rental companies in Istanbul, we are preferred by many domestic and foreign companies located within the borders of Istanbul.
PROFESSIONAL CAR RENTAL SERVICE IF YOU NEED
You can request Istanbul VIP Vito rental service in any area you wish. You can request VIP Vito car rental service from our company for business meetings, private trips and weddings, circumcision, engagement, holiday and touristic trips.
Our company is also preferred for VIP Vito car rental service, which companies may need in a daily, weekly and monthly time frame. Our company is highly preferred for special vehicles needed in organizations such as TV series and movies.
FEATURES IN OUR VIP VITO VEHICLE MODELS
We have the latest model Istanbul vip Vito rental vehicles and thus we enable you to take part in all your organizations in Istanbul with our comfortable vip Vito vehicles. Our Vip Vito vehicles have both exterior and maximum comfortable design, you can order a VIP Vito vehicle model from our company with a capacity of 4 people, 6 people and 8 people.
You can find leather seats, stylish mirrors, magnificent interior and exterior design, comfortable steering wheel, magnificent interior and exterior lighting, large size plasma, advanced technology sound system and many more features in our VIP Vito vehicle models.
24/7 VIP VITO CAR RENTAL SERVICE
Unlike ordinary car rental companies that offer services in Istanbul, we offer our valued customers 24/7 VIP Vito car rental service, so you can contact our professional car rental company at any time of the day and all days of the week.
If you are in Istanbul, as a professional VIP Vito rental company, we are as close to our valued customers as a phone. Within the boundaries of Istanbul, it is enough to contact our VIP Vito rental corporate website or directly contact the corporate phone service of our VIP Vito rental company.
With our meticulous and respected staff, we address the expectations of our valued customers in Istanbul VIP Vito rental services and offer VIP Vito rental service within the guarantee. We welcome you to visit our company corporate website to meet with our leading VIP Vito rental company.
Chauffeur-driven car rental services, which are among our services, have been the most preferred application in recent years. In the business world, in private organizations, those looking for comfort to travel are negotiating with Vipcar Rentals to rent a luxury vehicle with driver. We are trying to serve in our Mercedes Vito model vehicles in order to provide the best service to our customers. Vito vehicles are the most preferred vehicle type for Istanbul. Give these services as vip service in the best way and with experienced drivers.
WHY RENT A MINIVAN WITH DRIVER IN ISTANBUL ?
In order for people to use a vehicle comfortably, they must first get used to that vehicle. We provide chauffeur-driven car rental service and provide chauffeur-driven Vito rental service so that people do not bother with driving and can go to the places they want to go in the most comfortable way. Our drivers are experienced and will take you to your destination in the safest way. In our rental services, vehicle and driver fees are calculated on a daily basis. We are trying to increase the satisfaction of our customers and to give them the most comfortable journey at the most economical prices.
WHAT ARE OUR SPECIAL SERVICES FOR SPECIAL DAYS?
We provide car rental services to all our Turkish and foreign customers to transfer their guests from one place to another on their special days. We rent our latest model minibus vehicles for public transportation. All of our vehicles are in VIP comfort. Among our special services we provide for your special days, there are luxury Mercedes car rental services with driver. By examining our site, you can even see the interiors of all our vehicles and decide on the vehicle selection.
Are you renting a Mercedes Vito with driver?
Yes, we rent with a driver at the desired time.
How much are the Mercedes Vito rental prices?
It depends on the service to be received and the day of the rental. Please contact our customer representative.
For your requests, please call +905442201022
E-Mail : info@istanbulminivan.com
All Our Rental Services in Istanbul
Car rental with driver
Airport transfer
Vip minibus rental
Mercedes Vito rental
Mercedes Sprinter rental
Limousine rental
Range Rover Rental
Long term car rental
Armored car rental
Luxury car rental
Mercedes Rental
Mercedes S 350 Rental
Mercedes S 500 Rental
Porsche Rental
Mercedes s 500 Maybach Rental
Affordable Daily Car Rental
Limousine rental service
Car rental service with driver
Private jet charter service
Yacht rental service
Helicopter rental service